Shipbuilding
Join the Serco Shipbuilding team, where we design, integrate and deliver solutions to keep our nation strong and safe. Here, we provide world-class products and services to the U.S. Navy, ranging from shipboard hull fabrications and mechanical and electrical systems (HM&E) to the full range of engineering services for the Navy's C4ISR, Combat Systems Cruiser/Destroyer Modernization and Weapons Systems.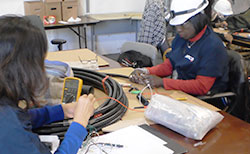 Our employees work on U.S. Navy vessels as marine electricians, mechanical assemblers, laborers, welders and other similar skilled trades with various levels of experience while following established procedures and applying NAVSEA and military standards (MIL-STD) to their work.
Serco has 10,000+ employess and $1.5 billion in annual revenues and we have one great career opportunity for you. At Serco, we realize that people are responsible for our success. That includes individuals with all skill levels and from all educational backgrounds, from high school graduates to PhD. If you have the drive and determination to make a difference in a company that believes in career advancement and enhancement, continuous learning and the power of individual effort as well as teamwork, then you belong at Serco.
Take the next step today — for your nation and your career.
Available Opportunities
Serco has multiple openings in a variety of locations, including: San Diego, Charleston, Hawaii, Chula Vista, Chesapeake, Mayport, and Bremerton.
Chula Vista Jobs
Chesapeake Jobs
Bremerton Jobs
Mayport Jobs